BMTC Student Pass Smart Card is in the form of a personal card, in which the photo and the name of the student can be seen on the card. Each bmtc bus pass card has a unique number printed on the card as well as another unique number available. Which remains encrypted in its electronic chip. That chip also contains all the information related to the student, source and destination. Between this, he is able to travel from his residence to the educational institution. In this, the validity of bmtc bus pass card is also present.
In this article, you will know How to apply for bmtc bus pass online application, its eligibility requirements, time table and how to cancel & check the status of bmtc bus pass? so please read the article carefully.
www.mybmtc.com student bus pass
| | |
| --- | --- |
| Application | BMTC bus pass (Bengaluru Metropolitan Transport Corporation) |
| State | Karnataka |
| Bus Pass | Student Bus Pass 2022 |
| Official Website | mybmtc.karnataka.gov.in |
| Helpline Number | 080 22483777 |
What is the Required document?
Scanned Aadhar Card of the applicant.
Your recent passport photo
Your caste category
Your Classes (from 1 to 12 and above)
copy of payment receipt
Your college or school name & details.
Your active email id and mobile number.
How To Apply For BMTC Bus pass Application Online?
To Apply For BMTC Bus pass Online application, you must follow the process below.
Step 1: First of all, visit the official website for the BMTC bus pass.
https://mybmtc.karnataka.gov.in/
https://mybmtc.karnataka.gov.in/info-3/Student+Pass/en
Https://sevasindhu.karnataka.gov.in/Sevasindhu/English.
Step 2: Click on the Student Pass Online Application.
Step 3: Enter your Username and Password.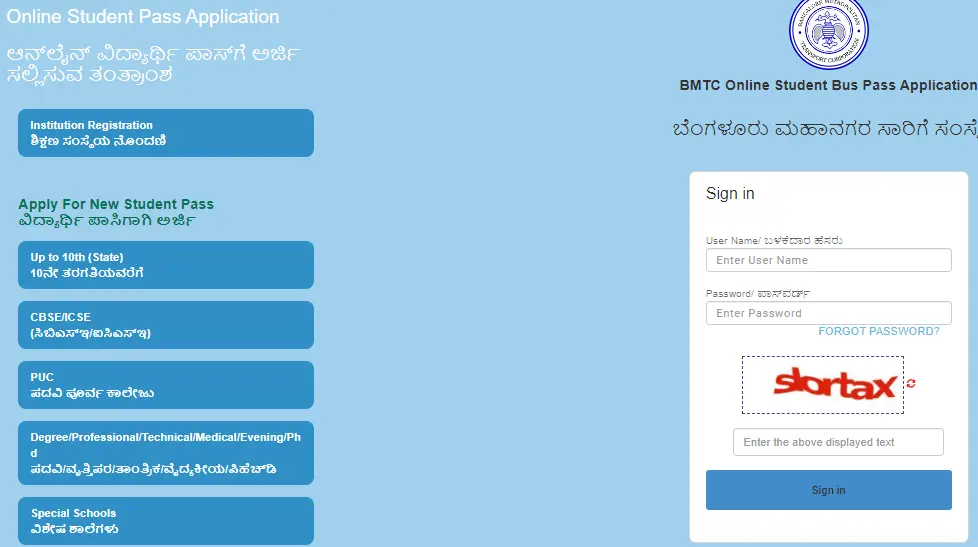 Step 4: Fill in the Captcha in the Box.
Step 5: Click on the Sign in button.
Step 6: Once logged in, your application will appear on the screen, click to fill out the form.
Step 7: And upload the Required details.
Step 8: Finally, you will get an application number with the allotted date and time for the appointment. You can choose your nearest BMTC office.
How to fill out BMTC Bus Pass Application 2022-2023?
To fill out the BMTC Bus Pass form offline, you need to download the application form PDF and fill in the block letter with all the details.
Download the BMTC bus Pass application from its official website.
Take a print on Hard copy.
Fill out all details in the form, and attach your photo and required document.
And submit the form.
BMTC Bus Pass Application Form pdf – Download
BMTC Mobile App
If you want to download the BMTC Mobile App, you must know that this app is not available on the Google play store or apple AppStore. So, please you should go with its official website.
How to Check BMTC Bus Pass Application Status?
Here are the methods to check the BMTC Student Bus Pass Online Application Status 2022. you need to go with the below steps.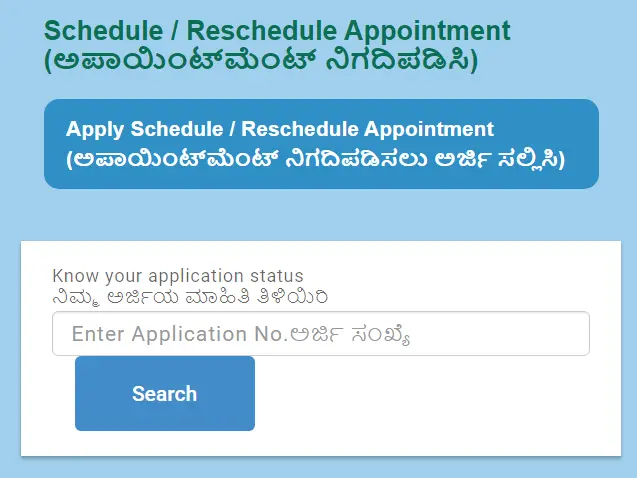 Go to the official website portal – http://student.mybmtc.com:8280/bmtc/login/secure#
Scroll down and you will see the "Know your application status" option.
Enter the Application number.
Then, click on the Search Button.
How to cancel BMTC bus pass application?
Here are the steps for bmtc bus pass application for cancellation.
Navigate the official website and log in to your account.
Then you can see the application, check and Press the cancel option.
If the cancel option is not available, you can call 08022483777 on this number. tell the customer the reason for cancelling the application. Then they will help in cancelling your application.
FAQs
Can we apply for BMTC bus pass online?
Yes, you can apply for a BMTC bus pass online, it can be processed from its official website. you can also apply offline in PDF form.
Is BMTC bus pass application open?
Yes, BMTC Student Bus Pass Online Application Form is open from 2022. If the student has applied for the pass, they will be provided with a time slot to collect their pass from Bangalore, a center near their residence.
How can I apply for BMTC student Pass online?
Students can apply for Student Pass through an online application available on BMTC website (https://mybmtc.karnataka.gov.in) and Seva Sindhu Portal (https://serviceonline.gov.in/karnataka). Students can complete their student pass application process from a computer or mobile.