HREX Haryana: This guide will help you to know all the details about HREX Employment Department Haryana Online Registration 2023 and Haryana State Employment Exchange Login (hrex.gov.in) regarding frequently asked questions.
HREX (Employment Department Haryana) has been started to provide jobs for all job seekers in Haryana. under this, Guidance for employment and self-employment is provided to the learned youths and women of the state. To get benefit from this scheme of the Haryana state government, you need to complete the registration process from the official website of "HREX" at hrex.gov.in. Apart from this, the employment mela is also organized by the state government every month. But if any applicants want to join the Haryana Rojgar Mela 2023, then they have to register first.
Here is the HREX Registration 2023, and the Application Process is also available.
Without further delay, let's read the hrex complete information.
HREX (Employment Department Haryana) 2023
| | |
| --- | --- |
| Portal or Scheme | HREX Employment Dept. Haryana |
| State | Haryana, India |
| Total Job Seekers | 623111+ |
| Registered Employers | 8615+ |
| Department by | Employment Department |
| Toll-Free No. | 1800-1802403 |
| Beneficiary | Unemployed residents of Haryana/Jobseekers |
| Official site URL | hrex.gov.in |
Employment Department Haryana
The Haryana State Government has provided a web portal called the "HREX Portal" and the Employment Department of Haryana. The aim of the Hrex portal is to provide jobs to all employees, including unemployed youth and girls.
Therefore, every degree student can get an opportunity to get employment by registering for and participating in employment fairs (Mela) and other recruitment events.
The applicant can also get notification of employment recruitment through the official Haryana Employment Department portal.
This portal is mainly useful for the following types of work –
(a) Employment mela
(b) Self-Employment Guidance:
(c) unemployment allowance
hrex.gov.in portal
Employment Department Haryana (HREX portal) is active for applying for jobs for all job seekers or employers.
HREX Haryana
The department administers the Employment Exchanges (Compulsory Notification of Vacancies) Act, 1959, which is a central statute, and the rules made thereunder.
Presently, there are 65 employment exchanges functioning in the state, out of which there is 1 state employment exchange at Panchkula in Haryana, 6 divisional employment exchanges, 16 district employment exchanges, 39 sub-divisional employment exchanges, and 3 university employment information and guidance bureaux.
State Employment Exchange Panchkula has 3 cells:
1 Professional and Executive Cell (P&E Cell)
1 Scheduled Caste (SC) Cell and
1 Person with Disabilities (PWD) Cell also functioning
Employment exchanges mainly perform three types of functions.
Registration of applicants and their placement,
Providing vocational guidance to job seekers,
and collecting employment market information data from establishments in the organized sector.
Employment Exchanges are offering free services to employers as well as job seekers.
The Haryana Rojgar Mela 2023
All eligible unemployed youth or jobseekers can find various jobs according to their eligibility criteria on the Haryana Rojgar Mela portal, Herx.gov.in.
To apply for a job, the applicant needs to pass the 10th grade, intermediate, BA, B.Com, B.Sc., diploma, and MA. Employment opportunities are also available from private and public companies.
You can get the job information from the HREX Haryana portal, which provides notifications and job opportunities for various companies in the state.
This portal also accommodates companies from outside the country. and companies participate in district-level job fairs every year.
To fill out the Haryana Rojgar Mela this year, you need to first register your account on the Hrex portal at https://www.hrex.gov.in/.
Eligibility Criteria for HREX Haryana
Some Eligibility Criteria for HREX Haryana or rojgar mela to apply the application form.
The applicant should be a verified citizen of Haryana.A
The age should be 18 years and above.
Education qualifications must have 10th, Intermediate, BA, B.Com, B.Sc, Diploma, and MA.
Required Documents for Hrex Haryana
Applicants must be prepared before applying for a job with hrex in Haryana.
Aadhaar card.
The government issues an identity card.
Passport-size photo
Registered mobile number.
A parent's proof document in the state.
A legal certificate from the sarpanch or municipal counsellor.
A caste certificate
Resume
Domicile certificate
An experience letter (optional)
HREX Registration Process
Follow the simple steps to Register your account on the Hrex haryana portal to complete the application form.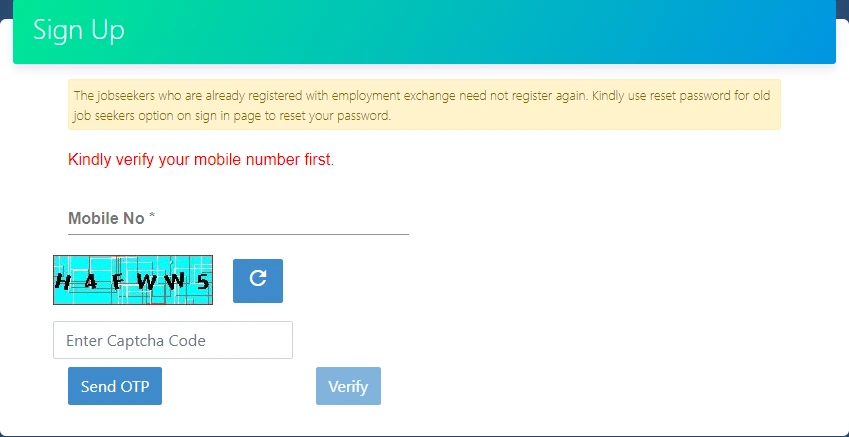 Go to the Haryana Rojgar Exchange website portal or the Employment Exchange portal at https://hrex.gov.in/.
From the menu, select "Account" and then click on the "Register" button.
Now you will see the Signup Page; select "Jobseekers" in Register as a section.
Click on the "Sign-up" Button.
Now, enter your "Mobile number" and "Captcha code" and click on the "Send OTP button".
You will get the "OTP" on your current mobile number, you just have to enter the OTP to verify your mobile number.
Once verified successfully, the Hrex portal will open an application form from the job fair.
You need to fill out all the required information on the application form.
Next, you must review the information you filled in and click the "Sign Up" button.
After creating your account, you need to log in to your account using your login credentials.
After that, systems will open the Hrex application form, and you need to enter all mandatory fields with required details such as name, address, Aadhaar number, etc.
Finally, review the details you entered in the form and click on the "Submit" button.
This is How to register your HREX Haryana portal account, HREX Registration 2023, and the Application Process for job fairs.
HREX Haryana Login
To login to your account on the HREX portal, you must follow the steps below.
Visit the official Haryana Employment Exchange portal.
The direct link is https://www.hrex.gov.in.
On the homepage, Select Account and Click on the Sign in button from the menu.
Enter your username and password.
Enter the captcha code in the blank fields.
Then, Click on the Sign in button.
Finally, you can access your hrex account to see the details and complete the application process.
Contact Details of HREX Haryana Department
| | |
| --- | --- |
| Helpline Number | 1800-180-2403 |
| Office Address | Rozgar Bhawan, Plot No. IP-6, Sector-14, Panchkula (Haryana) |
| Working Day and Time | Monday to Friday (9:00 am to 5:00 pm) |
FAQS of HREX Portal
What is the Hrex portal?
The hrex portal name is https://www.hrex.gov.in/.

What is the Hrex portal helpline number?
The helpline number is 0130-2218740
Can other state users also register in the HREX Haryana portal?
Yes, if someone does not belong to the state of Haryana and wants to register on the hrex.gov.in website, then they can follow the registration process.
Important Links