Till now, all vehicles used to run on fuel such as gasoline (petrol), diesel fuel, and propane (LPG), but due to high consumption, now CNG is being used as fuel. The full name of CNG is Compressed Natural Gas. The use of CNG has spread to almost all states, and people can easily afford it.
Through this post, we will talk about how to apply For CNG Maker (Compressed Natural Gas), How to Become a CNG Maker. which you can complete at vahan.parivahan.gov.in.
CNG Maker
| | |
| --- | --- |
| Organisation | Ministry of Road Transport & Highways |
| Facility Name | CNG Maker (Compressed Natural Gas) |
| Portal Name | CNG Vahan Sewa |
| Services | Manufacturer Related Services |
| Applicable State/UT | All India |
| Website Link | https://vahan.parivahan.gov.in/ |
What is compressed natural gas (CNG)?
Compressed natural gas (CNG) is a fuel gas mainly composed of methane (CH4). CNG fuel can be used in place of or as an alternative to gasoline (petrol), diesel fuel, and propane (LPG). CNG combustion produces fewer undesirable gases than the other fuels above.
In addition, it is safer than other fuels in the event of a spill, as natural gas is lighter than air and expands quickly when released. CNG is compressed under a pressure of 200 to 250 kg/cm2. In this compressed form, it is less than 1 percent of its volume at atmospheric pressure.
Benefits of CNG
Some benefits of compressed natural gas (CNG):
Compared to other hydrocarbon-fueled vehicles, CNG-powered vehicles have lower maintenance costs.
CNG fuel systems are sealed, preventing damage from fuel leakage or vaporization, so CNG-powered vehicles are considered safer than gasoline-powered vehicles.
Being a gaseous fuel, CNG mixes easily and evenly with the air.
And CNG ignites less on hot surfaces because it has a higher auto-ignition temperature (540 °C) and a narrower range of flammability (5–15 percent).
How To Apply For CNG Maker?
To apply for CNG Maker, one has to visit its official website, vahan.parivahan.gov.in, and log in to continue in the CNG Maker e-Services Portal.
Along with the application for a CNG maker, one has to know about installation requirements, permit conditions, and CNG Retrofittment.
Installation Requirements:
There are some requirements which you have to fulfil in order to install CNG.
The place of CNG compression, storage and distribution shall be located and operated in accordance with NFPA 1 and NFPA 52.
A manually operated container/shutoff valve shall be listed or approved and shall be provided for each container.
Pressure relief devices shall be listed or approved for ASME containers. Provided with one or more spring-loaded pressure relief valves installed to open in accordance with ASME code. Any discharge must be installed vertically and fitted with appropriate raincaps.
Permit conditions
Certain conditions have been imposed for all CNG-propelled contract carriages which are as follows.
The permits will be subject to the conditions/provisions laid down in the Motor Vehicles Act, 1988 and the conditions/directions laid down by the STA, Delhi from time to time. Furthermore, the specific scheme's terms and conditions shall be additional permit conditions for permits granted under the specific scheme.
The permit holder shall comply with all general conditions attached to the permit under section 84 of the Motor Vehicles Act, 1988.
CNG Retrofittment Type Approval
India's government has permitted and even encouraged the use of CNG (compressed natural gas) as an automotive fuel. Accordingly, provisions relating to emission, safety, installation, and other requirements have also been notified under Rule 115 of the CMVR to allow such conversion.
The kit manufacturer should obtain approval from any one of the testing agencies notified under Rule 126. The approval process is done on the basis of component testing, engine testing, vehicle testing, and other requirements.
How To Track CNG Maker Application Status?
Follow the steps below to track the status of your CNG Maker application.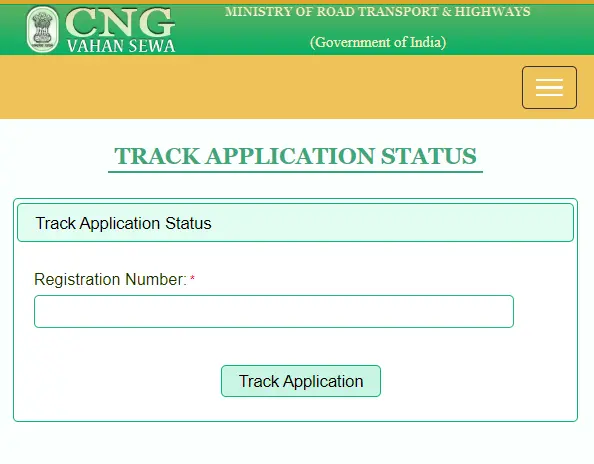 Step 1: Go to the official website of CNG Vahan Sewa.
Step 2: Click on Application Status>> Track Application status.
Step 3: Enter your Registration Number.
Step 4: Click on the "Track Application" button.
Read more – Lease Management System Madhya Pradesh- elease.mp.gov.in